Charlotte's Web
by E.B.White
produced by special arrangement THE DRAMATIC PUBLISHING COMPANY of Woodstock, IL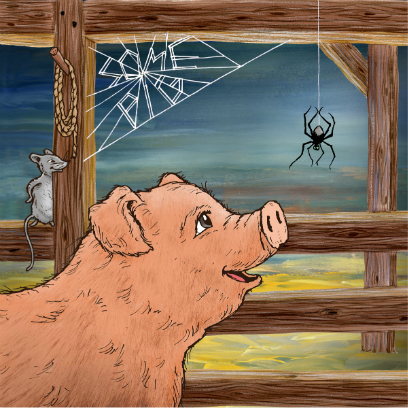 Charlotte's Web, one of the finest and most endearing stories written for children, will be presented on the Orange Barrel stage this spring. All the enchanting characters we've come to love over the years will be there! Wilbur, the irresistible young pig who desperately wants to avoid his impending fate. Charlotte, who proves to all what friendship truly is. Templeton, the gluttonous, sassy rat who will do anything for a feast at the slop bucket…and so many more. Come and be a part of this "terrific, terrific, terrific" show.
Performances will be held in The Great Room Theater
at the
Mount Vernon Developmental Center
1250 Vernonview Drive, Mt. Vernon
April 11, 12, 13 and 17, 18, 19 at 7:30 pm
Click on the "Buy Tickets" menu option above to purchase tickets
For more information call 740-504-8847.