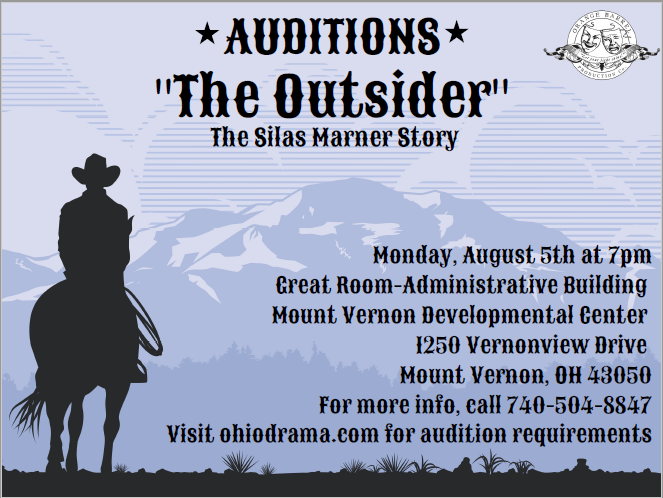 The Outsider, The Silas Marner Story, written by George Elliott, weaves the threads of betrayal, greed, new beginnings, love, transformation and redemption into a glorious tapestry that is worthy of the unique stage adaptation that has been created for OBPC.
Performace and Tech Week November 1st through 17th.

Rehearsals Monday evenings beginning August 12th.

Standard Audition Requirements apply. (main menu, Auditions, Standard Requirements)

Please email

This email address is being protected from spambots. You need JavaScript enabled to view it.

for a copy of the script

All Audition pieces must come from "The Outsider" script. Sides are listed below and should be memorized. Actors to read opposite will be available at auditions if needed.

A cast List is provided below

Appropriate suggested ages are requested for each character. The suggested age is derived from the characters age portrayal in the story and the original intent of the author. It is just a suggestion.
PLEASE NOTE – Consideration of age allowances for each character is based on the maturity, physical appearance and ability of the actor who is auditioning. This consideration falls to the casting committee to decide.
(If you have questions or concerns, please contact

This email address is being protected from spambots. You need JavaScript enabled to view it.

)
Suggested Age and List of Characters
25-40+ Silas Marner – cobbler, recluse, adopted father to Eppie
16-30 William Dane – one time best friend to Silas Marner. Framed him for a crime he himself committed.
15-30 Sarah – engaged to marry Silas. Ends up marrying William
15-30 Deborah – Lantern Yard friend
16-30 Henry- Lantern Yard friend
30+ Deacon Gray – dying man
30+ Elder Brown – governing board of Lantern Yard
40+ Minister Paston – head pastor of Lantern Yard
30+ Elders – governing board of Lantern Yard
15+ Rachael – young lady from Raveloe
15+ Mary - young lady from Raveloe
15+ Elizabeth - young lady from Raveloe
15+ Jenny – Young lady from Raveloe, crush on Godfrey Cass
40+ Mayor Cass – Mayor of Raveloe, lives on Red Rock Ranch
25-40 Godfrey Cass – son of Mayor, Eppies birth father
25-40 Dunstan Cass- wicked son of Mayor, steals from Silas
15+ Jane – maid to the Cass Family
16-35+ Nancy Lammeter, in love with Godfrey and later marries him
16-35+ Priscilla Lammeter , sister of Nancy
30+ Mr. Lammeter, father to Nancy and Priscilla
16-30+ Jem Rodney – local cowboy, sometime poacher/rustler
25+ Dowlas – owner of the local tavern/saloon
25+ Mr. Snell
25+ Mr. Macy
18+ Bryce – man who agrees to buy horse
40+ Mr. Crackenthorp
40+ Mrs. Crackenthorp
30+ Dolly Winthrop – good friend to Silas who helps him raise Eppie
5+ Aaron Winthrop – YOUNGER - son of Dolly who marries Eppie when he is older
15+ Aaron Winthrop - OLDER
25+ Mrs. Osgood – rich woman in town, throws New Years Eve party
25+ Mrs. Kimble – wife of Dr. Kimble
25+ Dr. Kimble – doctor who confirms that Molly is dead
15+ Molly Farren – first wife to Godfrey & mother to Eppie. Drug overdose takes her life
2+ Eppie – YOUNGER birth child to Godfrey, adopted by Silas
15+ Eppie - OLDER
The Outsider
The Silas Marner Story
Audition Sides
Scene / Pages

Characters

Description

Opening Pages 1-3

William, Sarah and Silas

S

ilas is on the brink of losing everything and he doesn't realize it

Scene 3: Pages 7-8


Silas & William

Silas stands accused of crime William committed

Scene 6: Pages 13-16

Godfrey and Dunstan

Dunstan blackmails Godfrey and threatens to tell his secret

Scene 9: Pages 24-29

Mayor Cass & Godfrey

Godfrey tells his father the truth about missing money and the horse

Scene 11C: Page 40

Molly Farren

Molly succumbs to death


Scene 11D: Page 42-43

Godfrey & Nancy

Godfrey tries to persuade Nancy he loves her

Scene 11E: Page 48-50

Dolly & Silas

Dolly offers encouragement to Silas & will help with Eppie



Scene 13: Page 53-56

Dolly & Silas

Dolly helps Silas recount his Lantern Yard days and what happened

Scene 13: Page 56-58

Silas & Eppie

Eppie tells Silas that Aaron wants to marry her

Scene 14: Page 58-62

Godfrey & Nancy

Godfrey finally tells Nancy the truth about everything

Scene 15: Page 63

Silas & Eppie

Silas tells Eppie how much he loves her

Scene 15: Page 64-69

Godfrey & Nancy

Godfrey demands to have Eppie back